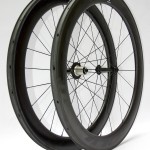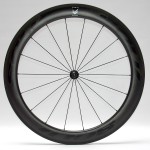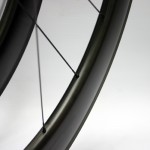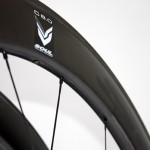 Overview
The C6.0AERO tops off our new lineup of carbon wheels with an emphasis on aerodynamics. The new wider, rounded and foil shaped rims are dubbed FOILX. The new shaped rims allow for a better and smoother transition with clincher tyres. It also creates a smoother ride as tyres can be run at lower pressures. The wider rim improves airflow between the tyre and rim junction and the flared rim improves laminar flow reducing separation and thus reducing aerodynamic drag. FOILX  increases the stability of the wheels in crosswinds and reduces the aerodynamic drag of the wheel at greater yaw angles by equalising the 'head' and 'tail' of the profile. As side winds hit the curved and foil shaped sidewalls, it does not push on it causing the rim to deflect but rather moves gradually around the surface.
With all of our other new 23mm wide rims, lower tyre pressures can be used, and a lower rolling resistant tyre shape, better cornering grip and more aerodynamic tyre profile can be achieved. Compatibility with frames and existing brake calipers are also retained.
These wheels are built for pure and unadulterated speed. At their rim depth and shape, these are ideally suited to fast rides and races as they hold high speeds easily due to their aerodynamic qualities. The wheels hold high speeds with remarkable ease due to the FOILX profile. Add this to the conveniences of a clincher tyre and you have a wheelset that is hard to beat.
We had dealt with many issues in the development of this rim. Heat dissipation is handled through a military grade epoxy formulation that reduces temperature buildup during prolonged braking. Side wall distortion is also reduced with a new carbon layup. Rear rim has been stiffened and weight has increased to further enhance durability. This also allowed a higher spoke tension for the rear and lower spoke count for the front.
Our Prodigy wheels feature our own SOUL PRODIGY hubs which weight 270g/pair, and use only 1 spoke length for the entire wheelbuild. The SOUL hubs feature a smoother freewheel design with 2 sets of 3 simultaneously engaging pawls and 2 sealed bearings front and 4 sealed bearings rear.
Fully artisan crafted and handbuilt with equal spoke tensions. Spoke threads are prepared before assembly to prevent spoke binding and seizing. All spokes are stress relieved a few times during build process. This is a wheelset built for the purposes of pure speed.
Specification
Rim: Unidirectional high TG carbon weave with 'ghosted graphics' with FOILX profile.
Rim Width/ Depth: 23mm (25mm max width)/ 62mm
Bearings: Japanese High Grade Stainless Steel sealed bearings.
Hubs: SOUL Prodigy V3 hubs, 2 sealed bearings front + 4 sealed bearings rear. Campagnolo and Shimano/ SRAM cassette compatible available.
Spokes: Double Butted and bladed 2.3mm X5 CrNi stainless steel spokes. 18 radial laced front + 24 2 x cross driveside, radial non-driveside rear.
Nipples: Brass Rear DS, Aluminium (Black)
Skewers: 90g Lightweight Hollow Chromoly Axle (included)
Plugs: Rimplugs included
Weight: 715g (Front) 895g (Rear), 1,610kg pair (weight without skewers)
Weight Limit: 95kg/ 210lbs
Compare
Here are some comparisons of our wheels:
| | | | |
| --- | --- | --- | --- |
| Brand/ Model | Width/ Depth | Spoke | Weight |
| Soul/ C6.0 | 23(25)/62mm | 18/24 | 1610g |
| Zipp/ 404 FC | 25(27)/58mm | 16/20 | 1525g |
| Enve/SES6.7 | 26/60(F),24/70(R) mm | 20/24 | 1566g |
| Reynolds/ 58 | 26/58mm | 16/20 | 1580g |
Custom
Available Customisations:
Hybrid Ceramic Bearings- SGD120/ USD100 (1 set)
Coloured endcaps (Blue/ Red/ Silver)- SGD30/ USD25 (1 set)
Coloured nipples (Blue/ Red/ Silver/ Gold/ Pink)– SGD30/ USD25 (1set)
Coloured hubs (Blue/ Red/ Silver/ White)- SGD37/ USD30 (note: Coloured hubs only available in 20/24)
Price+Buy
PRICE:
Price for pickup in SINGAPORE: SGD$1700/ USD1400/ pair
Total Price with Shipping to USA/ EU/ CAN (2 weeks): USD1480/ pair
Total Price with Shipping to AUS/ ASIA (1 1/2 weeks):  USD1460/ pair
ACCESSORIES:
Our customers also normally purchase the following:
Lightweight Titanium Skewers- SGD45/ USD35 (1 pair)
Lightweight Rimplugs- SGD25/ USD20 (50pc)
Innertubes- SGD6/ USD5 (48mm valve 1pc)
SOUL Training Tyres- SGD37/ USD30 (1 pc)
TO PURCHASE:
Send us an e-mail at sales@bikesoul.com and inform us of the following:
– Model Name
– Freehub compatibility (Shimano/ Sram or Campagnolo)
– Quantity
– Location
– Customisations (if any)
– Accesories (if any)
– Paypal account e-mail (for us to send you an invoice)