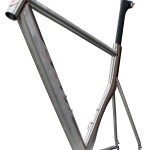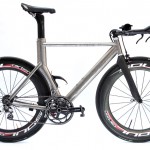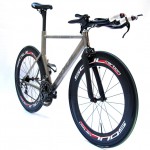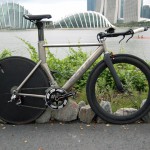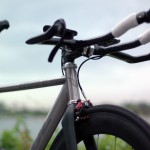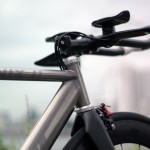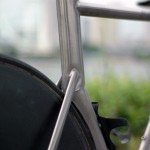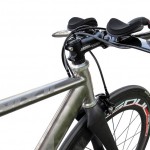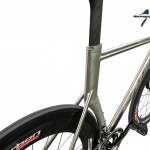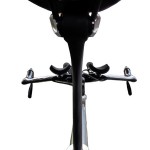 Overview
The Fenix is the most advanced triathlon/ time trial titanium frame ever built. This is not just marketing jargon, it's a fact. The list of features include:
Internal cabling for all shifters and brakes through the toptube
Wheel cutout at seattube, triple formed seattube made of 4 different sections
Aero profiled seattube in carbon
Rear entry dropouts
Under BB mounted brake calipers
PF30/BB30.
Other titanium frame companies never came close because it's really really expensive to make the Fenix, and hence it's not economically viable to create a mass market titanium frame with the abovementioned features. The Fenix brings titanium triathlon and time trialing frame design to a different level.
Straight and bladed Seat stays have been introduced this year to increase aerodynamics and reduce rear wheel bounce, suffered by most titanium frame designs. The downtube is flattened and ovalised to increase aerodynamic properties and reduce frontal area. The headtube is kept at a traditional 1 1/8″ steerer as it has a smaller frontal profile.
All our frames feature size specific tubing. As sizes increase so do tube diameters. Headtube extension is optional. Frame finish is handbrushed. Custom sizes and seattube extension length can be done.
Specification
Material: 3A/2.5V Seamless Aerospace Grade Titanium, Straight Gauge rear triangle, 6A/4V Aerospace Grade Titanium double butted main triangle. 6A/4V machined dropouts, stops and bridges.
Headset Type: 1 1/8″ aheadset (not included)
BB: PF30 (adapter for standard BSA included).
Seatube: Custom aero carbon seatpost (included)
Seatclamp: CNC lightweight clamp welded to the frame
Fork: Not included
Front derailleur: Braze on
Rear Dropout: Solid 6a/4v titanium dropout
Finising: Handbrushed with logos sandblasted.
Size
Accessories
Available Additional Accessories:
PF30 BB- SGD25/ USD20 (1 set)
headset- SGD100/ USD80 (1 set)
Price+Buy
PRICE:
Price for pickup in SINGAPORE: SGD$3500/ USD2850
Total Price with Shipping to USA/ EU/ CAN (2 weeks): USD2930/ pair
Total Price with Shipping to AUS/ ASIA (1 1/2 weeks):  USD2910/ pair
TO PURCHASE:
Send us an e-mail at sales@bikesoul.com and inform us of the following:
– Size required (based on your current size or through a fitting centre)
– Quantity
– Location
– Customisations (if any)
– Paypal account e-mail (for us to send you an invoice)
ALL custom frames will be charged a deposit of 10% to start the design process, 30% prior to fabrication after drawings are confirmed and full payment before shipping